CURAPROX Go Black! Hydro-sonic toothbrush Black is White
Proper tooth brushing requires both decent manual skills and use of appropriate accessories. The truth is, a manual toothbrush doesn't provide precise cleansing. To make matters even worse, unskilful use of a toothbrush can damage gums.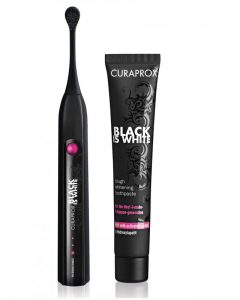 Hydro-sonic toothbrush Black is White by Curaprox is a true innovation in the field of tooth care. Incredible design of the product goes hand in hand with its practicality.
What does make the hydro-sonic toothbrush Curaprox stand out of the regular toothbrushes?
incredibly gentle and effective Curen® bristle;
a very powerful engine that makes 42 000 rotations per minute;
three modes of cleaning: intensive, delicate and massaging;
combination of smart design with maximal effectivity;
two interchangeable brush heads BIW 295 for better effect,
complementary with Black is White whitening toothpaste.
Safe gums
Repeatedly, we hurt our gums by brushing teeth using a manual toothbrush. Its due to the fact that a toothbrush with regular bristle, the one that isn't profiled in any way, makes us scour teeth and press the toothbrush against them, which directly contributes to gum injury. Curaprox Hydrosonic Blask is White toothbrush eliminates this problem. This device is made of delicate Curen® bristle as its head has well-profiled shape. Thanks to this, teeth and edge of gums are cleansed in a safe and effective way. Curaprox Go Black! Black is White is a method of preserving ideal health condition of oral cavity.
Perfectly clean teeth
Brushing tooth thanks to Curaprox Black White delivers revolutionary effects without the risk of irritations and experiencing a feeling of discomfort. This pitch-black hydro-sonic brush Curaprox Go Black! is the exclusive device helping to get the whiteness of teeth we have always wanted to have. Efficiency and design are two the most important features of Curaprox Black is White, that deliver visible benefits of tooth cleansing. Innovative hydrodynamic effect and 42 000 rotations per minute allow the brush to reach and cleanse interdental areas. Definitely, that makes tooth brushing more precise.