Nirvana for skin – rejuvenating creams by NUXE
Delicate pink peony.
Subtle blue lotus.
Relentless duet in fight against wrinkles.
We will enlighten you: when fighting against skin ageing, you do not have to take on any offensive ingredients. The greatest power is hidden in the nature. Even the most subtle, delicate and beautiful plants can be ruthless weapon against wrinkles.
French NUXE brand knows it best and is really proud with its innovative anti-age collection. Nirivanesque creams are an absolute victory in fight against passing time.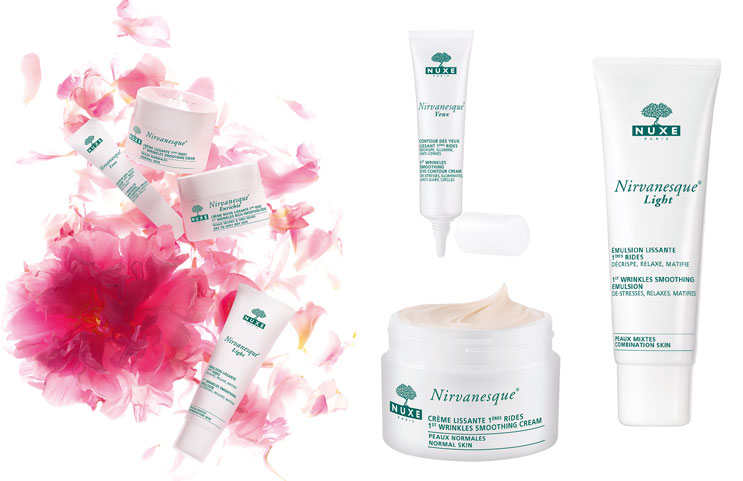 In the collection consists of four cosmetics:
First Wrinkle Cream Nirvanesque® – Normal Skin (50 ml/1.5 oz.)
First Wrinkle Cream Nirvanesque® Enrichie – Dry Skin (50 ml/1.5 oz.)
First Wrinkle Cream Nirvanesque® Light – Combination Skin (50 ml/1.5 oz.)
First Wrinkle Eye Cream -Nirvanesque® Eye Contour (15 ml/0.5 oz.)
The collection was complemented with peony and blue lotus extracts. What is more, effects are visible right after first few applications: minor wrinkles are flatter, skin seems relaxed and rested: like it has just experienced true Nirvana. The line provides smoother for face features and long lasting rejuvenation effect.
Creams have beautiful and intoxicating mimosa scent, which has also therapeutic action: relaxes. What's really important is that each cream is rich in natural ingredients (almost 90% of the composition are natural substances). Therefore, in creams are to be found peonia root extract, althaea extract, nymphaea coerulea seed extract, papaver rhoeas seed oil, macadamia seed oil, caffeine and rice powder. Cosmetics do not contain parabens and do not clog pores.
Chosen face cream plus eye cream should be applied in the morning and in the evening after thorough face and neck cleanse.
Skin becomes relaxed, rejuvenated and – according to the manufacturer – reaches the state of ultimate happiness. The true Nirvana.