How to take care of the body? Beauty treatments and natural cosmetics
Hot bath with aroma therapeutic oils, herbs and citrus, conditioning of hands and nails. This is how you should take care of body and face skin. Let's find out how you can relax and what you should do to become beautiful is one evening. Try cosmetics, which will help you preserve right skin condition.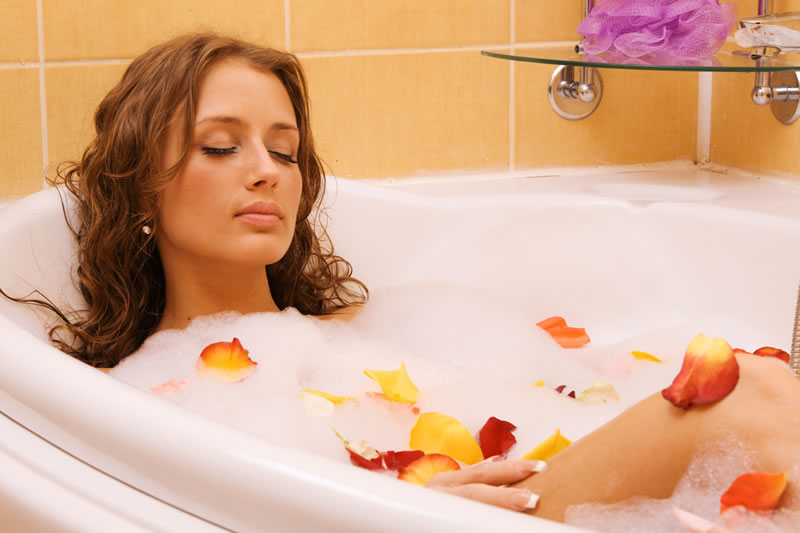 True relief will ensure you the aromatic bath with oils, herbs or fruits. Few drops of the oil and herbal extracts pour into the water, and cut some citrus into slices. Surround the bathtub with aromatic candles and play some relaxing music. Such bath will not only calm and sooth, your tired body, but will also condition the skin. Before you proceed with this relaxing beauty treatment, take a quick shower and perform some peeling. The shower will remove all the dust and sebum; the water in the bathtub will remain clean. Peeling will remove dead skin cells, improve blood circulation, speed up absorption of nourishing ingredients and prepare body for further treatments. Reserve about 30 minutes for the bath.
The water in the bathtub shouldn't be too hot. When the temperature suits you, throw in a handful of bath salts, pour herbal extracts or essential oil and throw in the citrus. You have no idea, how many pro-health properties does the prepared bath holds. Antiseptic, calming and regenerating action is provided by the rosemary, lavender, juniper, chamomile and marigold. Oils will nourish, moisturise and soften the body. You may find it a great idea to complement the bath with some bubble bath or powder, which contain rice and wheat proteins. These ingredients are helpful in restoring right skin pH.
Your bath will be better with citrus. Grapefruit, lemon, bergamot, lime and orange are the most popular fruits used for home made beauty rituals. Citrus strengthen skin, contain lots of vitamins and antioxidants. They have antioxidant, lightening and nourishing properties. They stimulate, refresh and support work of respiratory system. In the drugstores are available cosmetics with fruity scent and composition. When choosing such product, always think about its conditioning properties.
Do not forget about taking care of hands and nails. In the drugstores you can buy hydrating-peeling gloves. This gadget will not only take care of your hands, but also condition the nails and cuticles. before you use them, perform the peeling to remove dead skin cells. Put on the gloves overnight, so that in the morning you can wake up with beautiful and smooth hands. You may find helpful to do the hand mask or paraffin treatments on hands. Nails treat with oils that contain vitamin A and E, urea and lightening ingredients.