Nanoil hair oil. Designed to satisfy women's needs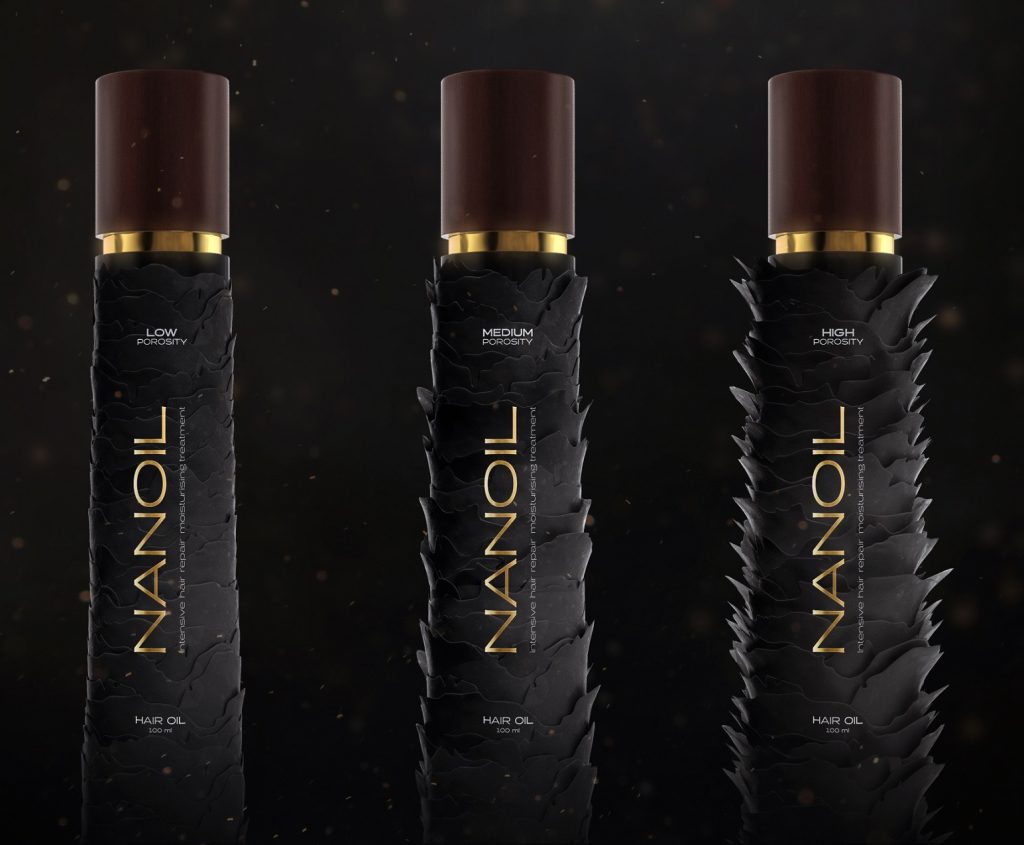 What's the most important in beauty? The balance between what is inside and what's on the outside. Seek for the harmony in the cosmetics that base their action on natural vegetable oils. The ideal composition in three variations is here thanks to Nanoil.
Many women consider searching for the perfect hair product as a formidable task, especially if the hair is visibly weakened, and none of the products offers the complex action our strands require. Little do we also know about the looks of our hair besides that it's supposed to be sleek and shiny.
The structure of our hair determines its needs. The inner layers of hair are coated with an 'armour' made by a few layers of keratin cuticles. What does it mean? It means that in day-to-day hair care it's essential to supply strands with keratin, vitamins and EFA (Essential Fatty Acids). Thanks to these substances strands remain strong and smooth because their outer protective layers are in a mint condition. The success lies in the products of well-created composition, best if is rich in vegetable oils, such as the one from Nanoil series.
Hair porosity is the indicator of the degree at which hair is damaged. This indicator should influence our choice while purchasing hair care products. There are a few ways to define porosity of our hair; obviously, some of them are more effective than the other methods. It goes without saying that a trichologist has at their disposal the apparatus due to which your hair porosity can be defined correctly. Sometimes, you don't have to make an appointment with the specialist since some hairdressers are also qualified enough to give you information concerning porosity level of your strands. In short, hair porosity is directly connected with the hair structure – it's an angle at which hair cuticles are open. As the distance between hair cuticles gets greater, the damage of hair becomes more considerable. In other words, strands become weak, rough and dehydrated if the cuticles are widely open. Having this in mind, our hair can be of high, medium or low porosity.
Oil hair treatment is a highly effective hair care method, but only if the choice of oils is conscious. For that reason, defining your hair porosity is crucial because the hair type determines the care product that should be used to treat your strands. Simply, low porosity hair likes different oils than medium or high porosity hair. Frequently we forget about this significant issue while choosing hair oils. Nanoil does this for us and offers three versions of the product that matches a particular hair porosity:
Nanoil for low porosity hair,
Nanoil for medium porosity hair,
Nanoil for high porosity hair.
Conscious hair care is a way to combat all problems that hair is beset by. The success lies in reaching for the products that aim at dealing with the problems. Learn each of the three versions of Nanoil hair oil to see that you can find a perfect option for yourself!
NANOIL HAIR OIL FOR LOW POROSITY TYPE
This is a solution for straight, hard to style, deprived of volume and protection hair that takes long to blow-dry. This version of Nanoil features the best composition of 9 natural oils rich in saturated fatty acids and 6 extra substances. Nanoil for low porosity hair provides hair with complex care without overburdening, all thanks to the light formula of a pleasant smell.
Nanoil for low porosity hair:
Provides hair with continuous protection against the sun and toxins as it stops cuticles from opening wider thanks to coconut oil, monoi oil and UV filter.
Strengthens hair from its roots, prevents excessive water loss and accelerates its proper growth thanks to castor oil and two complexes – Kerastim and Baicapil.
It protects against damages caused by heat that hair is exposed to during hot styling thanks to argan oil that is able to shield strands against high temperatures.
Regulates all processes that take place in the scalp, so hair is no longer greasy nor affected by dandruff thanks to cedar oil and vitamin A.
It permanently keeps hair in good condition, leaving it full of shine, flexible and very soft because of panthenol, cupuacu butter and passion fruit oil.
Prevents from losing water as it halts hair and scalp ageing processes thanks to shea butter and vitamin E.
Improves the outcomes of hair styling procedures, eases combing and accelerates drying time without overburdening thanks to babassu oil.
NANOIL HAIR OIL FOR MEDIUM POROSITY TYPE
The perfect solution for most women, in particular for those whose hair is problematic, poor in moisture, with the tendency to frizz, dull, weakened and hard to tame. Nanoil hair oil for medium porosity hair supplies strands with the essential fatty acids omega-7 and omega-9 delivered thanks to six natural oils. Enriched with the same number of extra substances, the oil conditions strands from the inside and outside because it's absorbed fast and leaves a protective coat around hair's surface.
Nanoil for medium porosity hair:
Provides heat protection as it reinforces keratin structure of hair damaged due to styling thanks to argan oil.
Strengthens natural protective coat of hair and shields it against damaging environmental factors (including the sun) thanks to marula oil and UV filter.
Stops excessive loss of weakened hair, strengthens hair bulbs located in the scalp and accelerates hair growth thanks to Kerastim and Baicapil.
Amends processes that take place in the scalp, regulates pH level and limits production of sebum thanks to jojoba oil, macadamia oil and vitamin A.
It counteracts hair ageing processes, and thanks to vitamin E the hair oil restores vitality to strands, prevents brittleness and takes care of a good condition of hair.
Adds shine, smoothness and flexibility as it counteracts frizz and brittleness thanks to coconut oil, silk and passion fruit oil.
NANOIL HAIR OIL FOR HIGH POROSITY TYPE
The best option for super damaged hair that is dehydrated, excessively falling out, with split ends, dull, rough and frizzy. The beauty product hides the best natural oils blend of high concentration of the essential fatty acids (omega-3 and omega-6). Nanoil hair oil for high porosity hair is a delicate formula of a pleasant smell, the action of which is concentrated and directed at the source of the hair problem.
Nanoil for high porosity hair:
Regenerates even the deepest hair layers, closes risen up cuticles and rebuilds bonds inside hair thanks to keratin and panthenol.
Strengthens hair from the roots to the ends, and thanks to two substances (Kerastim and Baicapil) hair stops falling out excessively and starts to grow faster.
Protects hair against damaging solar radiation and high temperatures, as it strengthens natural protective layer thanks to argan oil and UV filter.
Restores the proper level of moisture to hair, smooths hair structure, adds softness and makes hair flexible because it contains lanolin and almond oil.
Takes care of proper functions of scalp cells, relieves irritations and regulates work of sebaceous glands thanks to evening primrose oil and passion fruit oil.
Prevents scalp from losing water, adds shine, counteracts frizz and disciplines hair thanks to avocado oil and silk.
Protects sensitive ends of hair and counteracts premature signs of hair ageing due to vitamin E and cotton seed oil.